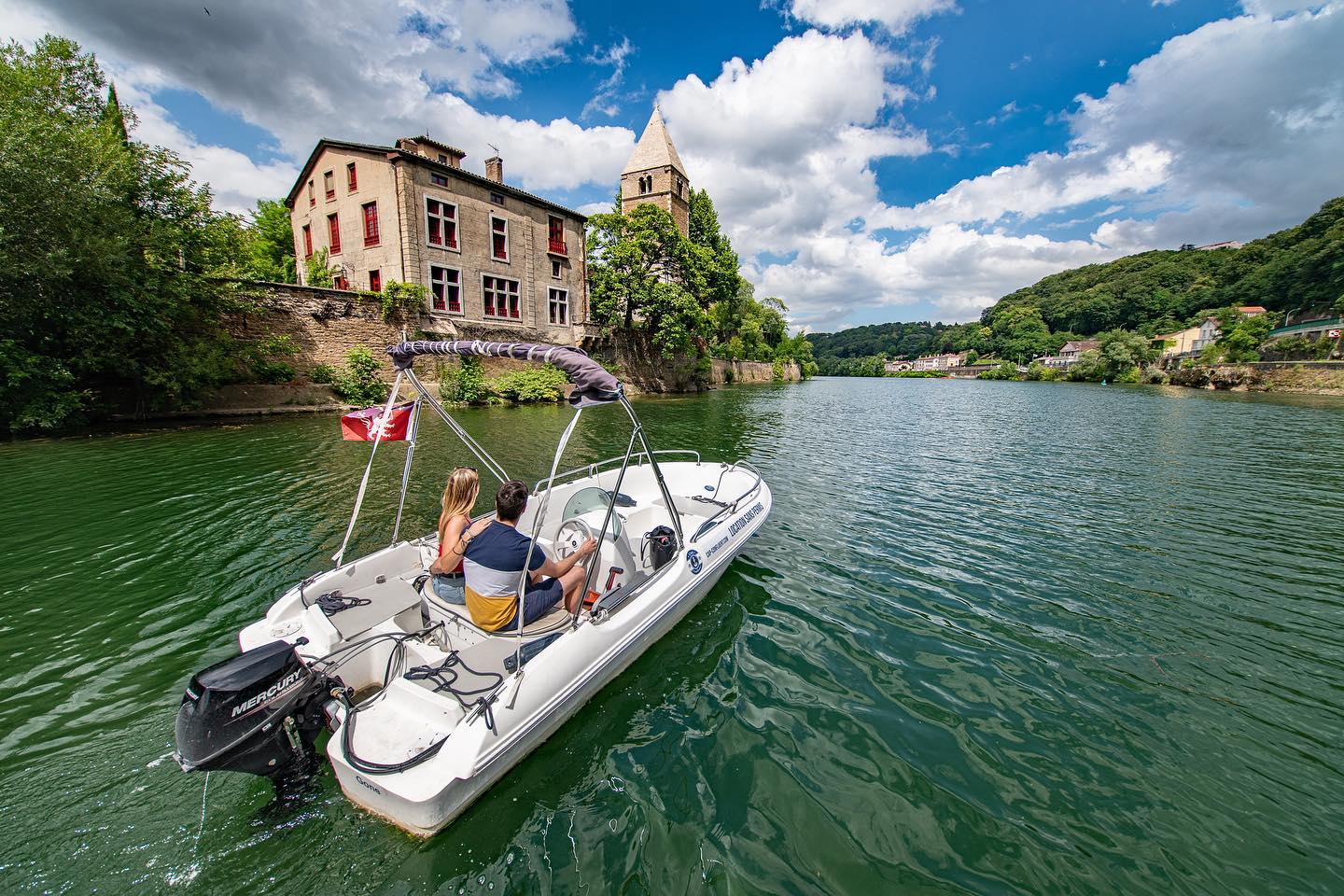 The navigation for licence-free boats is only allowed on the Saône, from the Mulatière Bridge to Couzon au Mont d'Or flood barrier. The time estimated on our map was defined with a licence-free boat with strong water flow. The navigation conditions must also be taken into consideration to define the duration of the boat crossing. The navigation area with our boats required a licence also includes the Rhône.
Licence-free boat
Route 1h:
Departing from Confluence, you will set sail to discover the historical heart of Lyon from the Saône. Along the Old Town (Le Vieux Lyon), you will be able to admire the Saint Georges and Saint Paul district, Saint Jean Cathedral, Fourvière Basilica, the Croix Rousse hill to finally meet « l'Homme de la Roche » (the Man of rock) from where you will turn back to Confluence.
Route in 1h30:
The beginning of the journey is the same as the Route 1 but will continue up to Vaise district, at Schuman Bridge. Depending on where you turn back, you can make the most of the time you have left to admire the docks and all the modern buildings of the factory La Sucrière, before coming back to Confluence.
Route in 2h:
During this journey, the beginning will be the same as previous ones but heading to Ile Barbe. As you sail around the island you will be able to discover its peaceful atmosphere, its 1600 years old Abbey and its beautiful vegetation.
Route in 3h:
Cross the river from the town to countryside. You will cross all the other places already mentioned and will continue beyond Ile Barbe. Once you leave the town, the wildlife takes its place over again. Herons, beavers and some other cormorants enjoy this surprisingly calm area just on the edge of the city! Sail around Ile Roy, the second island that you will meet before heading back towards Confluence.
Route in 4h:
This route is perfect if you want to stop for a picnic at one of the docks that our team will suggest to you or to simply cross the whole of our route up to the flood barrier of Couzon au Mont d'Or before heading back to Lyon.
Route in 8h:
This route will allow you to fully appreciate our entire sailing area. Take your time to enjoy the view, having a picnic or to stop at one of the restaurant accessible by boat.
Boat with license:
3h: Confluence to Couzon au Mont d'Or round trip
4h: Confluence > Couzon au Mont d'Or > Confluence > 1h to navigate on the Rhône (you can also choose to start by navigating to the Rhône if you want to)
8h: It's up to you Captain! Our staff can share with you many suggestions.