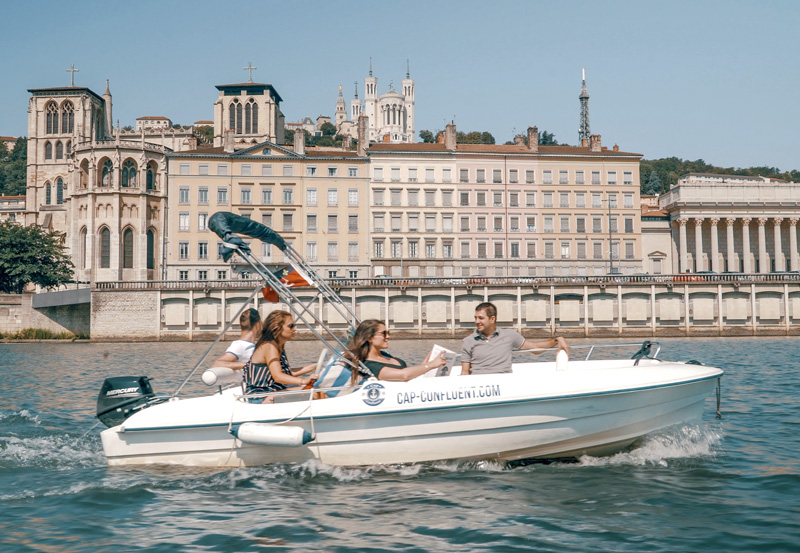 We offer two types of licence-free boats:
Le Cap 400, ayant une prise en main très facile et pouvant accueillir 6 personnes à bord. Pour les groupes au delà de 5 personnes et composés uniquement d'adultes, il est plus confortable d'opter pour le modèle Cap 4700 10 places.
The Cap 4700 : This 10 seaters model is our largest licence-free boat's model. Despite its large size, it is just as easy to handle as the smaller model. It is the best choice for groups of adults.  
Thanks to their size and height, these boats will allow you to navigate in total tranquility, even with kids on board. Each boat is equipped with a sun awning to protect passengers in case of heat waves or light rain.
It is highly recommended to book our licence-free boat online.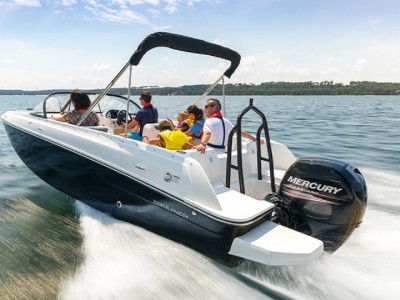 If you have a boat licence, we offer you the possibility to rent a Bayliner Element 6 boat.
With this model, you be able walk both on the Rhône and on the Saône
Name: Lyon Presqu'île
Size: 5m50
Engine: Mercury 100Cv 4 strokes
Fuel consumption: between 8 to 10L per hour
Capacity: 8 people
Equipment: Water Ski and Wakeboard mast, sun awning, usb and cigarette lighter plug, bluetooth stereo system.
Wakeboard and Water Ski are also available for rental.
To hire our boat with licence, it is required to book in advance, online or by phone.